It's funny because even the official Intel promotional slide decks only promise a 30% performance improvement for a 3 year old PC: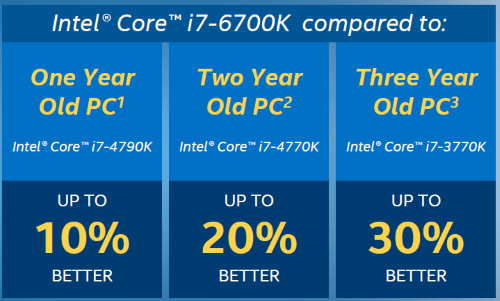 I think that's kind of optimistic. I'd say it's more like 30% improvement for a 4 year old PC.
Also since someone on Twitter brought it up, the Intel 750 solid state PCI SSD.
Booting from this will be challenging since it's a PCI express add-in card.
Ironically as fast as it is, it makes booting suuuuper slow since the card has to be specially initialized for boot, like a RAID controller, etc.
You have to buy the 1.2 TB version to get the fastest speeds. Which is … not cheap.
I feel that the M.2 drives will soon be mainstream in a way that PCI express add-in drives never will, since
they are very easy to install
supported in Skylake out of the box as a standard drive type
perform great at full PCI express bandwidth on Skylake
The absolute minimum to notice a performance difference is 25%. Anything less than that, I doubt anyone except the most performance sensitive would be able to tell.
This is also why a 30% performance improvement in 4 years of PC CPUs – even coming directly from Intel's promotional materials, which is optimistic – is kind of a bummer… it's barely over the threshold